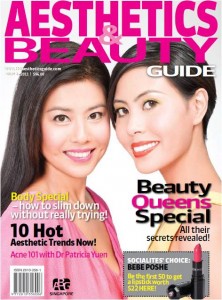 After toiling for two months and subjecting my face and body to countless treatments in the name of work, the 3rd issue of Aesthetics & Beauty Guide (July) is done and will be out end of this month!
From in-depth reviews of the latest body slimming procedures to amazing new facial treatments that rejuvenate without any downtime, ABG July will serve to be your beauty bible to the world of advanced aesthetic technology.
Look out for it at all news-stands, petrol kiosks and the back of Mercedes Premier cabs soon!