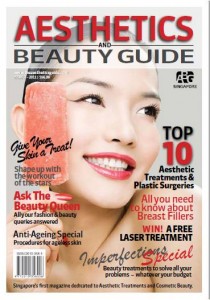 Get your copy now before it's sold out (yes that's what happened for the last issue!). What you'll find inside:
Aesthetics 101
-       Top 10 Aesthetic Treatments & Plastic Surgeries
-       Aesthetic Tips: How to find a suitable doctor
Imperfections Special
-       Whatever your problem or budget, there's a treatment here for you.
Laser Genesis - A non-ablative solution for younger-looking, glowing skin.
Fraxel Dual - Get rid of pigmentation faster with this new laser.
Revlite – Treat melasma and other pigmentation with this gentle laser.
Matrix IR – Smooth away wrinkles without downtime with the revolutionary elōs fractional technology.
Ask The Dermatologist
-       Dr Ang Chee Beng talks about laser treatments and how they can help improve skin.
Breast Fillers - Get shapelier breasts without surgery.
LPG - Knead and roll your way to a slimmer body.
Indiba - This treatment uses heat to burn off fats.
Beauty
-       Beauty Chat: With entrepreneur Merry Riana
-       Tried & Tested!  YouTube Guru Sarah Chaudhry and her top five beauty picks.
-       Ask The Beauty Expert: We get beauty and health tips from Lily Kew, founder of Glow Spa.
-       Acne Away! Top 8 grooming tips for men.
-       Ask The Beauty Queen: All your fashion and beauty woes answered.
Anti Aging Special
-       All About Fillers with Dr David Loh
-       New Face Lift: Sculptra: Find out about a new collagen treatment that will help put back what time has taken out.
Lifestyle and Wellness
 Hydrafacial – A cutting-edge technology in non-laser skin resurfacing for clearer  and more beautiful skin.
Cool Sculpt – Latest non-invasive procedure to selectively reduce fat in problem areas using a patented cooling technology.
PPx Pro  - Photopneumatic Profusion (PPx Pro TM) is five times safer, faster and more effective in treating acne, eradicating pigmentation and removing unwanted hair.
Exercise
-       Power Plate Workout: Shape up faster and more efficiently with this workout of the stars!
Ask The Plastic Surgeon
-       Find out how you can reverse signs of aging with facial rejuvenation by Dr Marco Faria Correa
5 Minutes With…
-       Dr Joyce Lim: This skincare doyenne talks about pigmentation and her solutions to skin imperfections.
Ask The Dentist
-       Dr Edward Liew from St Andrews Dental Surgeons clues us in on how to have a perfect smile.
Ask The Lasik Surgeon
-       Q&A with Dr Steve Seah from Optimax Lasik Centre
Industry Happenings
-       A sneak preview into the latest products and machines for all your beauty concerns.
What's In The News: Cosmeceutical Skincare, Latisse, UltraShape 3, Vaginal Resurfacing
Excites!