Gold – this glittering metal has been used since ancient times to heal the sick and save lives.  The use of gold in modern medicine began around 1890, when the German bacteriologist Robert Koch discovered that compounds made with gold inhibited growth of the bacillus that caused tuberculosis. Since then, medical uses of gold have expanded greatly. It is used in surgery to patch damaged blood vessels, nerves, bones and membranes. And it is used in the treatment of several forms of cancer. Injection of microscopic gold pellets helps to retard prostate cancer in men. Women with ovarian cancer are treated with colloidal gold. And gold vapor lasers seek out and destroy cancerous cells without harming their healthy neighbors.
The anti-aging benefits of gold can be traced back 5,000 years to Cleopatra, who was said to sleep in a gold face mask every night to enhance the suppleness of her complexion and preserve its natural luminosity. In addition to antioxidant and antimicrobial powers, gold is praised for its purported ability to ward off UV damage, tighten lax skin and reduce the appearance of discoloration. Some believe it can slow the breakdown of elastin, keeping skin firm and taut; other proponents believe gold increases circulation, eliminating toxins from the body and speeding up tissue repair.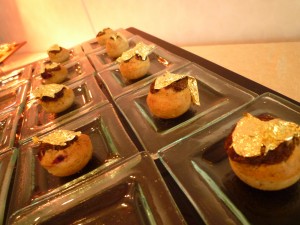 Which brings me to the reason why I was up early on a Saturday morning, popping gold-leafed canapes in my mouth…I was invited by La Prairie for the launch of their new Cellular Radiance Emulsion. At the workshop, group training manager of Starasia, Michelle, educated us on the benefits of gold and how their new product, containing this magic ingredient, will help bring radiance and suppleness to dull skin.
Any tai-tai worth her salt will know that La Prairie is known for their anti-aging skincare range made up of luxurious and top of the range ingredients like caviar, platinum and gold. One of their bestsellers is a serum called Cellular Radiance Concentrate Pure Gold under their Radiance Collection, which contains colloidal gold, flecks of gold and liquid crystals to rejuvenate skin. This Cellular Radiance Emulsion SPF30 is the latest add-on to the collection, and a complement to their bestseller.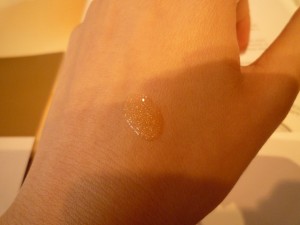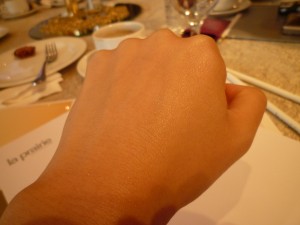 Testing the products, the gold flecks in the serum were obvious and my hand was instantly "blinged" up when I applied it. Topping it off with the emulsion, there was indeed a radiance to my hand as promised by the products. The texture was a little too rich for my liking upon application but after a while, the slight stickiness went away when the product was fully absorbed.
Besides gold, the emulsion also contains other skin-loving ingredients like a Unique Brightening Complex that contains a patented molecule that brightens the skin and helps prevent age spots from forming, Extract of Silver Vine which blocks almost 100% of carbonylation which is responsible for decreasing light transmission of the skin and Boswellia Extract, a topical anti-irritant to reduce cellular stress, a cause of redness and irritation.
I don't think that I am going to use the La Prairie products daily as I am quite happy with my current regime. Instead, I am going to save these goodies for special occasions when I need to glow. Or after a particularly rough week. Or perhaps when I am feeling like Cleopatra and soaking in my milk bath…
The Cellular Radiance Concentrate Pure Gold is retailing at $1050, while the Cellular Radiance Emulsion SPF30 is $750. Available at La Prairie counters at Tangs, Metro Paragon, Takashimaya and Robinsons.