I have just come back from an interesting party.  It was a party to celebrate a Facebook Fanpage hitting 6000 fans, and no, it was not a company, but the Fanpage of a make-up artist – Sarah Chaudhry. This is a major feat considering some big make-up companies (I shall not name names) don't even have those numbers despite advertising everywhere. Sarah's Fanpage called FacesbySarah not only has the impressive numbers, her fans are also one of the most supportive and responsive ones that I've come across. All Sarah has to do is post a question and she is guaranteed at least 30 comments.
I first met Sarah a year back when she was still working full-time. Back then, she was already a popular YouTube "Guru" who creates make-up tutorials that are watched by thousands. I enjoy having her at blogger events that I organise because I know that I will get a well-thought out review by her which will be read by her ardent followers. I also suspect that Sarah has photographic memory because I never ever see her taking notes but when I read her reviews later, she has all the facts down pat.
I'm so happy that in the short span of one year, she has amassed enough clients with her hard work that she can leave her job and focus on her make-up passion full-time. I wish her all the best and can't wait to see what this ingenious make-up artist has in store for us!
Some of her amazing artistry (photos taken from FacesBySarah Fanpage):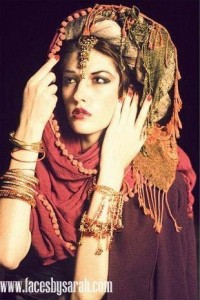 I'll leave you with some fun photos from her Arabic-themed party which had fans clamouring for invites, a hilarious host as well as an entertaining belly dance: