I'm happy and proud to announce that Aesthetics & Beauty Guide is now available in three languages!
I have to give Dr Georgia Lee credit for the Mandarin edition. During my routine check-up with the stylish doctor, she casually mentioned that I should do a Chinese version to cater to the the predominantly Mandarin-speaking population. A light bulb went off and after a quick discussion with my publisher, we set out to do ABG in Mandarin. The inaugural issue came out in May and feedback has been encouraging.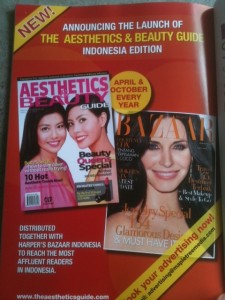 The Bahasa Indonesian version was the result of another chance meeting. When I was a freelance editor of The Republic last year, I interviewed Mr Soetikno Soedarjo of MRA Group, a media and luxury tycoon in Indonesia who not only bestowed me with a free stay at his beautiful Bvlgari Bali, but also asked me to send him a copy of Aesthetics & Beauty Guide, after I mentioned to him about it. He contacted my publisher  who made a trip down to Jakarta and the deal was done. ABG Indonesia will be published in October, together with one of his many publications, Harpers Bazaar!
Lesson learnt: opportunities are all around, you just have to listen, stay open and ACT!