Spent a luxurious Sunday pampering myself with Reviva Labs facial products. Here's what I tried:
1. Collagen Fibre Eye-Pad Kit (US$38)
Instructions:
First I applied the Skin Energizing  Gel (which comes with the product) under my eyes then pasted the collagen eye pads on top of it. Using water, I dabbed at the eye pads till they were transparent and adhered to my eye area. The eye pads molded easily and felt comfortable. After 15 to 20 minutes, I peeled them off.
Results:
My fine lines look minimised and my undereye area looked tighter. Weekly usage will enhance the Botox-like effects and result in smoother, firmer undereye area, reduce wrinkles, puffiness as well as dark circles.
2. Light Skin Peel (US$20)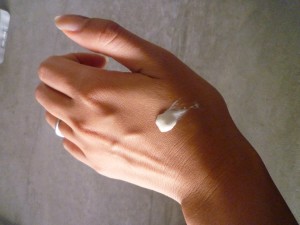 Instructions:
I applied this thick paste, which smelt like fruity clay, all over my face. There was a slight tingling sensation and I left it on for 5 minutes or until it dried completely, then gently rubbed it off. 
Results:
My favourite so far! My complexion was radiant and had a slight pinkish flush after the treatment. It would be great if the acid peel came with a brush or spatula to make application more hygenic.
3. Collagen Fibre Skin Brightener Pads (US$13)
Instructions:
An interesting product and treatment where you cut the collagen pads according to the area you want to treat, dab water to make it adhere and leave it on for 15 to 20 minutes. According to Reviva Labs, this product contains Alpha-Arbutin, and a study on Chinese women has shown that this ingredient has the most skin lightening effect after one month, compared to other products tested.
Results:
The area where I pasted the pads looked slightly clearer, however my pigmentation still looks the same. For progressive lightening, I have to use this two to three times a week.
For more information, check out: www.revivalabs.com