In a bid to stave off aging, I have been turning my world upside down two to three times a week with inversion yoga. Yup, I am keeping wrinkles at bay by spending time on my head, forearms and hands!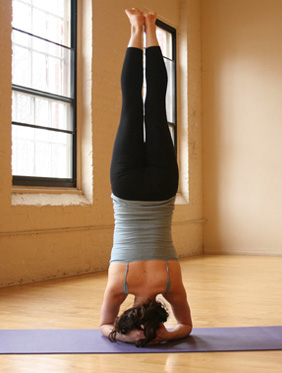 Inverted poses, like the headstand, can refresh the glandular and circulatory systems, increase circulation and drainage of lymphatic fluid, and stimulate the nervous system. It also provides your face with an instant facelift! In fact, Hollywood bombshell, Eva Mendes admits that she lies upside down on a slant board for about 20 minutes before a photo shoot, or a hot date. She notes that the increased blood flow to her upper body and face brings on a vibrant, flushed-with-youth look.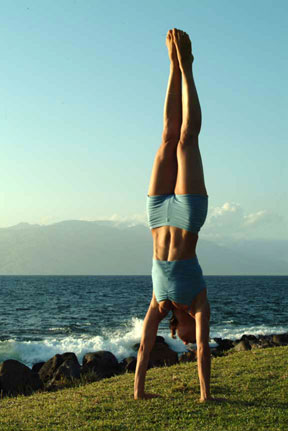 Besides a radiant and glowing complexion, I also notice that my back feels really relaxed after each 90 minute session, probably because the upside down poses relieve the gravity pull on my spine, giving it a much needed rest.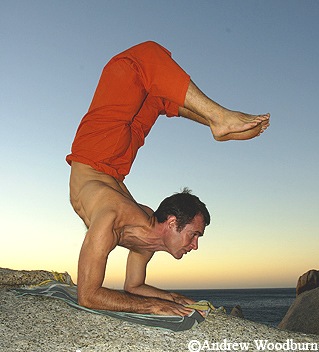 Other reputed benefits of upside down yoga:
Reduce Gray Hair
Practicing headstands regularly has even been reported to convert gray hair back to its natural color. Although I can't vouch for the validity of this particular claim, the transformation is supposedly due to the increase in blood supply and nutrients to hair follicles in the scalp.
Increase Sexual Energy
The bottom line is that a regular inversion practice can lead to better circulation to every part of your body, including the thyroid, pineal, and adrenals. This even goes for your sexual organs, which means better sexual health.
Delay Age-related Diseases
The stimulated circulation brings healthy, oxygenated blood flow to the brain, which increases mental alertness, helps to synchronize brain activity, and may help to prevent mental disorders and brain dysfunction.
Upside down yoga is not all about complicated Cirque Du Soleil-like poses. In fact, a simple Downward Dog position where your hips are higher than your head is an effective upside down pose! Who needs fancy creams and other costly beauty products that just add to your consumption? Stay young and youthful naturally.