I received a lovely package from Reviva Labs this week.  Hailing from the US, Reviva touts itself as the "health food store" brand used in over 1200 professional skin care salons. Started by Stephen Strassler, one of America's pioneer aesthetic doctors, its focus on using natural ingredients led to Reviva being sold in health food stores, hence its tagline.
Here's what I got: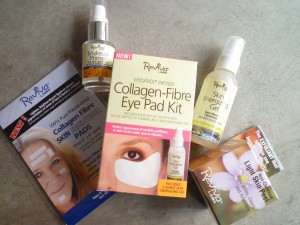 From left to right:
Collagen Fibre Skin Brightener Pads – This product uses the vitalising properties of freeze-dried native collagen, which is more effective than collagen that has been processed via heat and solvents in other kinds of creams. Native collagen fibre is a hydrating, healing treatment, in addition, Alpha-Arbutin, licorice, grapeseed extract and citric acid have been added to brighten and lighten age spots and create a more uniform skin tone. Results are purported to be seen after each 15 to 20 minute treatment.
Makeup Primer – To be used over moisturiser or directly on clean skin under make-up, this fragrance-free and non-comedogenic product smoothens lines, conceals pores and controls excess oil. When I told Reviva Labs that I don't use make-up, they told me that I can use it as a moisturiser alone.
Collagen-Fibre Eye Pad Kit – Infused with Myoxinal, which is an extract from the hibiscus flower known to relax facial muscles for a Botox-effect, this eye treatment helps to diminish wrinkles, reduce puffiness and decrease dark eye circles.
Skin Energizing Gel – To be used together with the Collagen-Fibre Eye Pad Kit or on its own, this product contains "electrically charged" trace minerals ions from Hawaii's ocean which serve as skin activators to stimulate skin cell energy.  It is used primarily to break down skin resistance which is common when skin ages and loses minerals. Apply this before using your regular skin creams and see how your skin absorbs the creams more effectively!
Light Skin Peel – This is not a strong chemical peel used by aestheticians, instead it is more of a gentle exfoliating product to remove dead skin cells.  It also stimulates the new skin cells to move upward at a faster rate so that skin surface can look tighter, clearer and healthier.
While I can't wait to test out all these new goodies, my skin is currently having a bad reaction to something so I am taking a breather and staving off piling anymore new products on my face.
However, I couldn't resist testing out the Skin Energizing Gel which controlled my sebum control when I applied it at night under my moisturiser, as well as the Makeup Primer which made my skin feel really matte and velvety.  Very promising indeed.
More reviews will be coming up soon, so stay tuned!